Top>
Episode 15 Aster/Micro Asters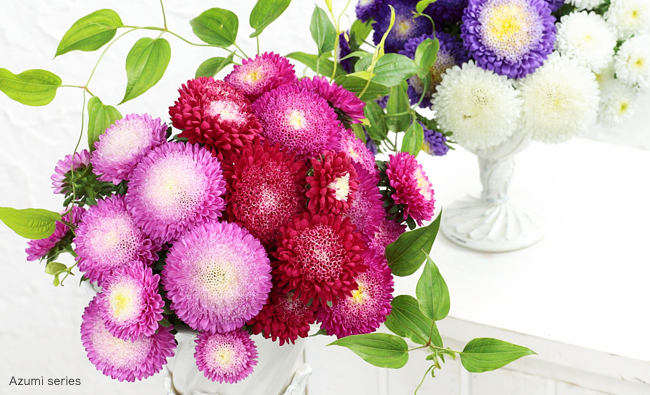 Episode 15 Aster/Micro Asters
The Aster is now versatile flower, not only use as a cut flower for Bon Festival; it is now used beautifully in bouquets and flower arrangements.
The Japanese name is Chinese Aster and it has been used for a long time during the summer Bon Festival which honours the spirits of one's ancestors. Originally a spring-blooming one species one genus annual from northern China, it came to Japan in the Edo period (1603-1868). Its generic name, Callistephus, means beautiful crown; a fitting name for the Aster's tangible beauty.
Blooming in summer, the prolifically blooming Aster has mostly been grown for use in offerings to the dead during the Bon Festival. Sakata Seed Corporation succeeded in breeding the "Misatokurenai" by crossing the native "Kurenai ("Crimson")" and "Hi-chasen" varieties. Aster's one drawback is its susceptibility to wilt disease, a soil-borne disease transmitted via Fusarium (bacteria).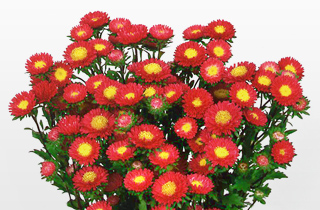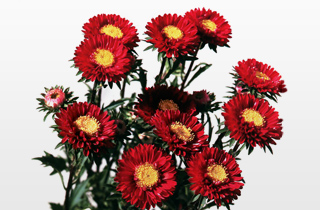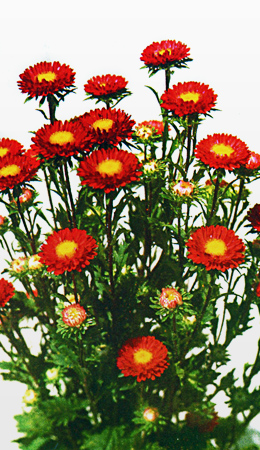 The relatively wilt disease resistant "Matsumoto" series was then successfully bred by Sakata. This series, with its prodigious branches and its voluminous cut flowers can now be cultivated originally only used by producers, it has become prevalent in households because it is easy to grow in outdoor cultures. The breadth of its varieties has expanded and it now features pastel colors and blues even more vivid than those found in chrysanthemums.
The "Stella" series was introduced based on the concept of "flower that can be used year-round" and "flowers to give to the one you love". Inheriting the properties of the "Matsumoto" series, it is disease resistant and features many vivid colors. With a half double blossom flower diameter of about 3 cm, it broke the stereotype of a flower previously use in Japan for butsudan (household buddhist altar) flower arrangements. It is now also used for bouquet and table arrangements.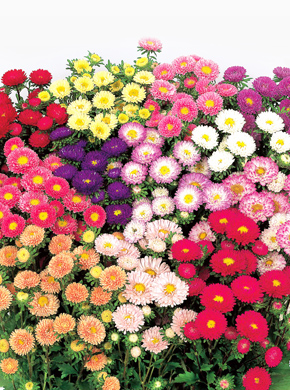 Next we saw the advent of the prodigiously blooming and wilt-disease resistant "Azumi" series, which has a tendency to become more beautiful as it continued to bloom. The ever-changing tubulous flower central part subdues the yellow of the disk part, thus renewing the traditional image of the Aster. The round, full bodied shape of the "Azumi" features beautiful flower colors that make a lasting impression.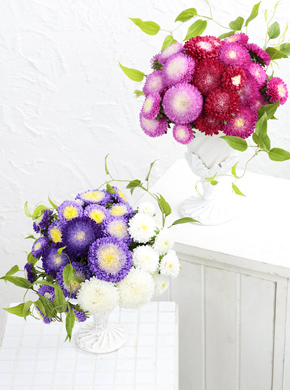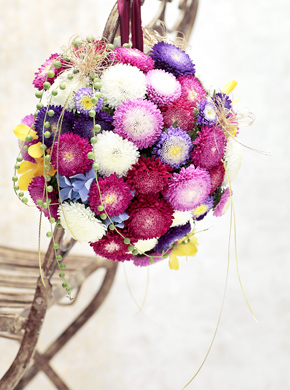 Originally a flower for buddhist altar arrangements, the Aster has become a flower equally used for other arrangements and its use has gone from mainly as a cut flower to flower bed flower. The large demand for the Aster has resulted in it becoming more disease resistant and more beautiful flower.
Did you remember to include the Aster in the bouquet you are sending to your lover?