Top>
Episode 01 "Lisianthus"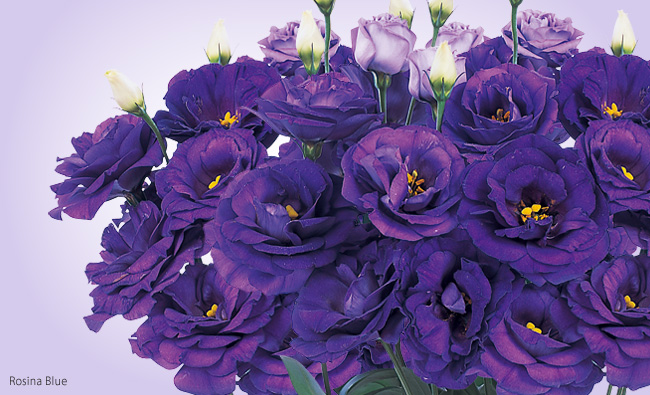 Episode 01 "Lisianthus"
Aiming to be the World's No.1 in Cut Flowers.
While roses continue to be the much-loved cut flower in the world, we at Sakata Seed Corporation believe the Lisianthus will one day overtake it. Aspiring for such a day, Sakata is determinedly breeding the lisianthus at its research station today.
Lisianthus is native to North America. The original strain behind today´s varieties grows wild from Colorado to Texas. It is a beautiful flower, predominately blue in color, with a diameter of around 2.5-5.0cm.
The lisianthus has been part of Sakata's history since 1934. It was first available in the mail-order catalogue "Sonono Izumi - Garden Fountains" when we had already begun seed production of the seeds that were being sold.
Although variety improvement breeding was already underway, with the outbreak of World War II, much research was lost and the advancement of breeding was interrupted.
Even during wartime, however, individual farmers in prefectures such as Nagano and Shizuoka were painstakingly continuing cut flower production and breeding. This made an enormous contribution to Japan later becoming the world´s leader in lisianthus breeding.
In 1975, Sakata released the first single flower, open pollinated "Shihai - Purple Cup," but as a cut flower, it still had a long way to go. To fix these problems, Sakata took on the challenge of developing an F1 lisianthus. (F1 refers to the first generation hybrid, created by combining superior male and female lineage genes) F1 led to major benefits such as uniformity and increased productivity.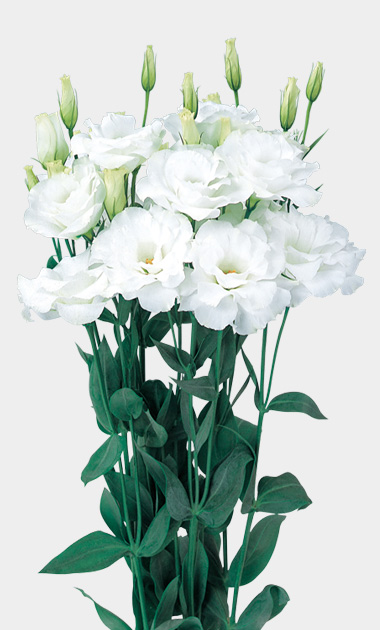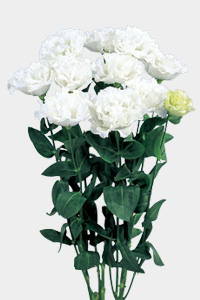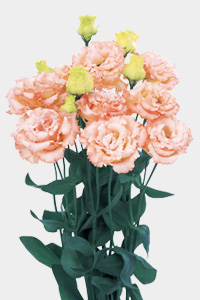 In 1981, the world-leading F1 single flower series "Mine - Peak", with it´s uniform color, flowering period and plant habit, was largely responsible for the expansion of lisianthus as cut flower from its predominantly potted form. In addition, Sakata also paved the way for the trend in the 100% double flower variety that is commonplace today. In 1988, Sakata released the "Hana - blossom" series, a variety with perfect doubleness in flowers. The following year, the "king series", a large flowered variety with perfect doubleness, was introduced and its popularity exploded. At the 1990 "International Gardening and Greenery Exposition" (Osaka Flower Expo.) the large, pure white, double flower "King of Snow" admirably received the top prize.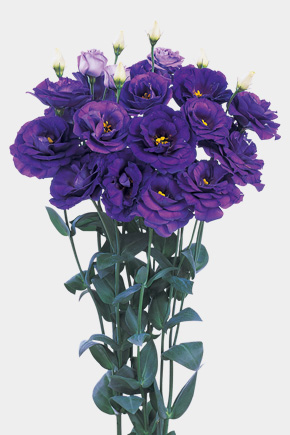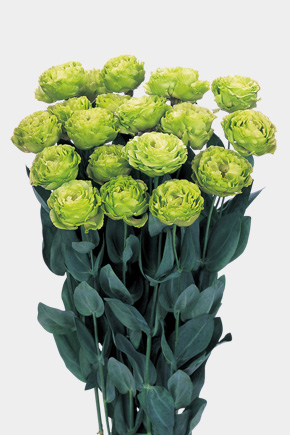 Following that, the "Rosina®" series, which looked just like roses, was introduced by substantially mimicking the shape of the double flower of a rose. This concept was highly valued by the Good Design Awards, which subsequently awarded the series with a prize in 2005. In recent years Sakata has created and released numerous series including, "Voyage®" - a series with large, fringed flower; "Reina White" - a series with large, semi-fringed flower; the "Amber" and "Double Amber" series with a uniquely colored flower which were developed in collaboration with Noboru Sase, a private breeder; the "Petit Fleur" series, a tiny, single flower and an ideal flower for use in arrangements and short bouquets. Lisianthus has since evolved into a flower that epitomizes the world of cut flowers. According to company statistics, Sakata holds a 70% world market share. As a result of the world class breeding capabilities of F1 variety from seed. and the company´s achievements in the introduction of new flowers, we were awarded the private sector R&D minister award from the Ministry of Agriculture, Forestry and Fisheries in 2002.
We strongly believe that the day will come when "lisianthus overtakes the rose".