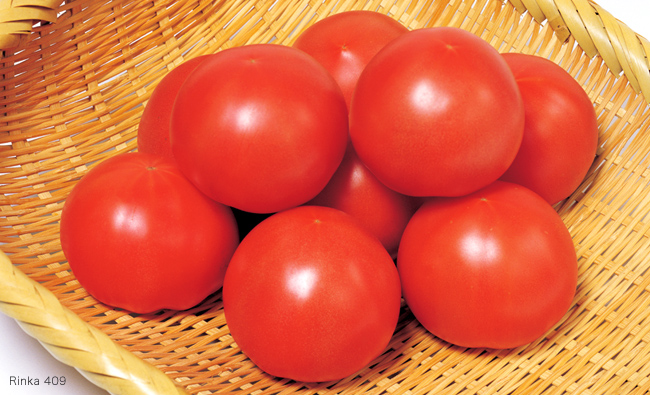 Episode 02 Tomato
Refine your knockout punch!
Tomatoes, originating in the plateaus of the Andes Mountains, are believed to have come to Japan via Europe between the end of the 17th and beginning of the 18th centuries. First used as an ornamental or medicinal plant, it became primarily a food crop during the Meiji Era.
Now available in stores year-round, it is everyone's favorite vegetable. However, because this "little lad" from the Andes was ill-tempered and ill-suited to Japan's climate, it was a difficult crop to cultivate. To raise it into an upstanding "young man" took a long time.
Tomatoes were already in our seed catalogs in pre-war times. For example, in "Sonono-Izumi" (meaning "Garden Spring") in our 1931 spring seed and seeding catalog, regarding the "Kyodai(meaning "huge" in Japanese) Tomato, Sakata's Giant", it is written "thanks to our painstaking efforts towards seed production improvements, we were able to produce and have started to sell an extra-large tomato this year." At the time, these were mainly open-pollinated varieties, ones which are thought to be vulnerable to disease and hard to cultivate.
The era of open-pollinated varieties continued, but as the post-war Japanese diet Westernized and tomatoes became more common on dinner tables, there was increasing demand for F1-hybrids that could be more stably produced. With F1-hybridization, yields not only increased, but plants became resistant to disease, and various other aspects improved as well. At that time Sakata Seed Corporation took on the challenge of breeding disease-resistant tomatoes through F1-hybridization, of course without losing the most essential element - flavor.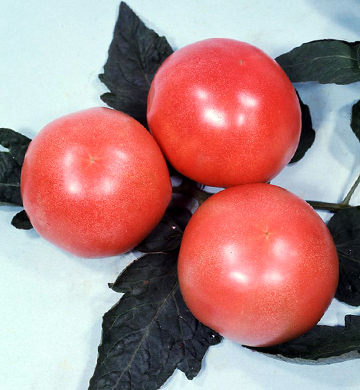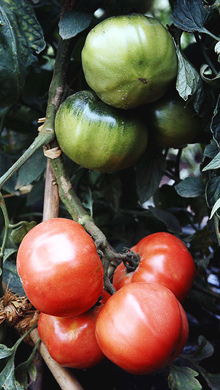 It is against this background that we saw the development of "Toyo Nishiki" in 1962, followed by "Homare 114", "House Homare", and other varieties in the 1960's. After that, varieties with elongated blossom ends such as "TVR-2", "Zuikou 102", made their appearance. In the 1985 International Exposition in Tsukuba, Japan (Tsukuba Expo '85) the "TVR-2" variety, became a hot topic of conversation with its yield of over ten-thousand tomatoes per plant through hydro-culture. "Zuikou 102" as well, exploded in popularity as a greenhouse tomato.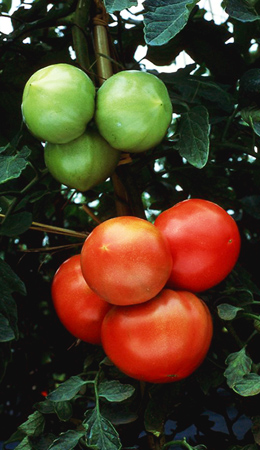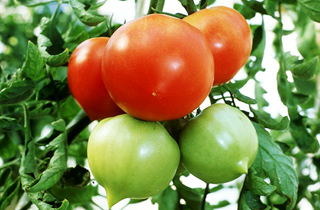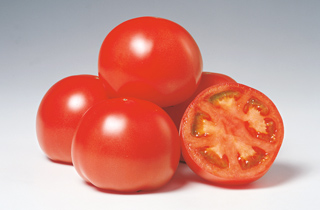 During the 1980's, elongated blossom end first tomatoes, which were difficult to handle at supermarkets, gradually lost popularity. In their place, new "mature" varieties developed by other companies, came to dominate the markets.
It takes over 10 years for us to produce a new breed. While varieties produced by other companies have gained popularity in the marketplace, our breeding team continued to invest a lot of effort into new varieties. The fruits of this labor were new varieties intended to re-capture the market, such as "Magokoro" and "Odoriko", which were eventually put on the market. "Sun Road", which is still widely considered a super-delicious tomato, was developed during this time. The name is still recognized, and its long history of cultivation continues. However, in boxing terms these development efforts would have been mere "jabs." Our "knock-out straight punch" required a little more time.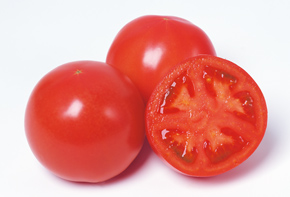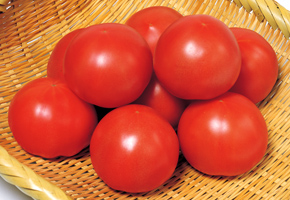 The "Ousama Tomato," (meaning "King of Tomatoes" in Japanese), the brand name for a group of varieties, was our "body blow." The "Ousama Tomato" was composed of five varieties: "Reika","Reiyo", "630", "My Rock", and "Gohobi (meaning 'gift')". You have most likely seen the Ousama Tomato brand name before. With this group of varieties, tomatoes remained firm even while fully matured on the plant, so fully ripened tomatoes could be distributed. They can be harvested after fully mature, so they are high in lycopene, glutamine, and other components. In terms of nutrition and flavor they also clearly outrank conventional varieties, together with the "Shurei", which is resistant to the recent troublemaker TYLCV (Tomato Yellow Leaf Curl Virus), the Ousama Tomato offensive was able to take a "bite" out of the competitors' "mature" varieties and gradually regained market share.
The game-changing "straight" knock-out punch was the "Rinka 409", which was able to claim the largest share of Japan's tomato-producing regions. "Rinka 409" is tough, high-yielding, and of course delicious. The tomato-producing regions verified this. Since Rinka 409 cultivation took over in the tomato-producing regions, the distribution map of tomato varieties has been redrawn.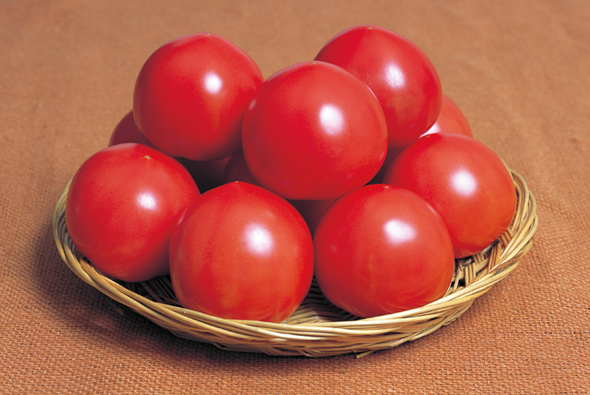 Of course, we are still refining our "knock-out punch." To commemorate our-hundred-year anniversary, we introduced the "Parto", a member of the "Ousama Tomato" group. This "full-mature" variety can grow large without the help of 4-CPA treatment (chemical treatment: process for flower setting of tomato) or pollination by bees, as was the case with former varieties. It is a revolutionary breed with "parthenocarpic" characteristics.
After a long period of obscurity, our varieties are gaining acceptance in the market. Delicious, resistant to disease and easy to grow, they are a delight to people and a boon to the environment. However, the quest to develop the perfect tomato continues 100 years after the company's establishment. There is no end to the breeding process.
There is no end to the breeding process.